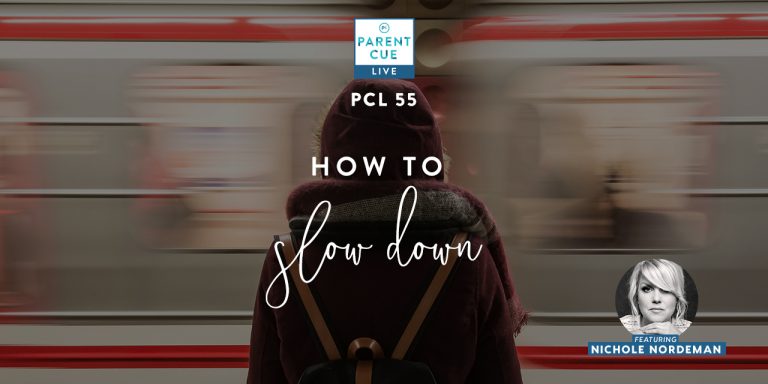 Contemporary Christian musician, songwriter, and author, Nichole Nordeman, talks about her viral song, "Slow Down," and the relevant message behind it in today's episode of the Parent Cue Live podcast.
Make the most of the moments you have. Try not to micromanage moments, and refrain from creating moments without meaning behind them, especially during the holidays.
Find your tribe. Parenthood is hard enough, and even more difficult without support. Find people you trust and be vulnerable with them about what you're going through.
Do an act of self-care every day. You can't serve others well if you're not serving yourself. Take some time every day to do something that helps you recharge.
Do you remember where you were when you first saw Nichole Nordeman's "Slow Down" viral music video (if you haven't seen it yet, take a moment and watch it here)? You were likely in the thick of parenting, surrounded by toppling piles of unfolded laundry, a full sink, and a kid who desperately needed your attention. And in that moment, clarity hit you in the chest: Time is passing so incredibly quickly, and if you don't take time to take it all in, you'll end up missing most of it.
Although the song happened nearly by accident — Nichole was asked to write and perform a song at the fifth-grade graduation of her son, Charlie — its message convicted hearts all over the world. As parents, it's so easy for us to get caught up in the daily tasks, especially during the holiday season. In today's podcast, Nichole talks about:
How to be present in every moment, even the messy ones

What bravery means in the face of parenthood

What new moms face

How to find your support system
In most moments of my life with my children, I have to ask myself, "What is my motivation here?" —Nichole Nordeman

Children need to see strong women committed to the holistic care of their mind, body, and spirit. —Nichole Nordeman

Do one nice thing for yourself and don't apologize for it. Watch how it trickles down into your kids' understanding that you're a strong, whole, healthy woman. —Nichole Nordeman
NICOLE NORDEMAN
Nichole Nordeman is a Christian recording artist and songwriter with numerous number-one and top ten singles to her credit and cumulative CD sales of over one million. A two-time Gospel Music Association winner for Female Vocalist of the Year, she has won a total of nine Dove Awards. She lives with her family in Oklahoma.
Carlos is an author, speaker, and content creator living in Nashville, TN with his wife Heather and 3 kids Sohaila, Seanna, and Losiah. He is addicted to social media, his wife's enchiladas, and is determined to have his daughters teach him to land a backflip on the trampoline by the time he is 45.
Did you enjoy this episode? Help us spread the word!
Hopefully, this episode has helped you find a few practical ways to "do family better." If you appreciated it, we would love for you to rate or review the podcast on iTunes. Your rating and review help get the podcast in front of new parents and listeners. You can also click the buttons below to share this episode on your own social media channels. Thank you for listening!

Source: The Parent Cue