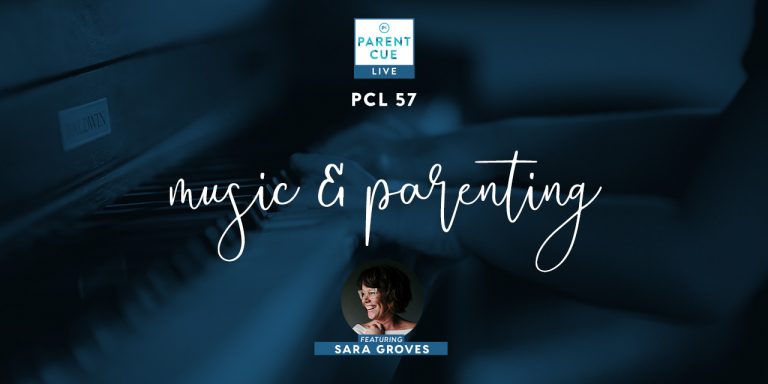 Singer/songwriter Sara Groves talks about her new album, "Abide With Me," featuring some of Christian music's most popular hymns in today's episode of the Parent Cue Live podcast.
Don't freak out when your kids have questions. Your kids are growing and changing, so they're bound to have questions. And although some of these questions might make you feel uncomfortable, it's good your children feel able to come to you with their questions. Really listen to what they're saying — sometimes, there's a question behind a question.

Find your community. If you're entering a new phase, you might be wondering if certain aspects are normal. Having people you trust will help you navigate the newness and reassure you everything is completely on track for that particular phase.
Remember the character of God.

God loves us when we're unlovable, and He extends to us a tremendous grace. As parents, it's important for us to remember we are to be a reflection of who God is to our children.
It's hard not to feel inundated by the amount of information available to us these days. As a result of the constant streams of conversation, we often feel overwhelmed — are we doing right by our kids? Are we doing right by ourselves?
Singer/songwriter Sara Groves has grown familiar with the weightiness of words. That's why recording her latest album, "Abide With Me," was just as cathartic to her as it is refreshing to listeners. The album, reminiscent of 1900s Americana, features a stripped-down approach to some of Christian music's most revered hymns. The songs are simple, speaking directly to the burdened hearts of many, especially parents. She wanted the album to feel like you were sitting in the last pew of church, she shares.
As a mother of three (two of them teenagers), Sara finds a constant need for grace to give to her kids. These songs, she says, represent the life stage she's in now as a parent to teenagers who are constantly searching for answers.
"God is not like man," she says. "He extends this amazing friendship to us and invites us to extend it to others. That is the resonating theme of the new album."
In today's episode of the Parent Cue Live podcast, you'll learn:
What inspired the recording of the album, "Abide With Me"
How God's neverending extension of friendship has helped Sara be a better parent
Sara's approach to parenting teenagers
The importance of the words we speak over ourselves and our kids
---
"[The Bible is] not a cautionary tale. It's this epic story of humanity." —Sara Groves
Click To Tweet
---
---
"I feel the need in the declaration of grace now more than ever." —Sara Groves
Click To Tweet
---
---
God is not like man. He extends this amazing friendship to us and invites us to extend it to others.
Click To Tweet
---
SARA GROVES
Sara Groves is singer/ songwriter and recording artist with a passion for justice and a heart of mercy. She has joined forces with International Justice Mission to advocate for victims of human trafficking for the past 12 years. Sara has been nominated for 7 Dove Awards and has produced a string of successful albums including her latest, Abide With Me, a collection of hymns recorded in a 110-year-old church. Find more from Sara on her website, saragroves.com.
Carlos is an author, speaker, and content creator living in Nashville, TN with his wife Heather and 3 kids Sohaila, Seanna, and Losiah. He is addicted to social media, his wife's enchiladas, and is determined to have his daughters teach him to land a backflip on the trampoline by the time he is 45.
Did you enjoy this episode? Help us spread the word!
Hopefully, this episode has helped you find a few practical ways to "do family better." If you appreciated it, we would love for you to rate or review the podcast on iTunes. Your rating and review help get the podcast in front of new parents and listeners. You can also click the buttons below to share this episode on your own social media channels. Thank you for listening!

Source: The Parent Cue