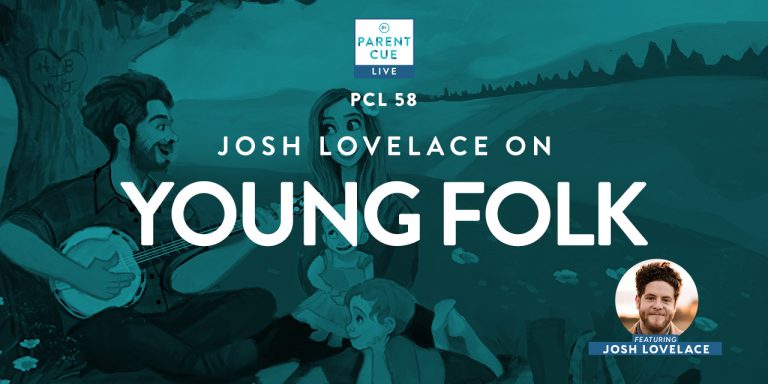 Josh Lovelace, singer, songwriter, and keyboardist for rock band, NEEDTOBREATHE, discusses his debut album, Young Folk, on today's episode of the Parent Cue Live podcast.
Be present.

Whether you're a traveling musician like Josh, someone who works outside of the home during the day, or a stay-at-home parent who finds themselves distracted by technology or the day's tasks, it's important to be intentional — distraction-free — with the time you spend with your kids. Being present communicates to your children your desire to connect with them on a meaningful level and that the time you have with them is important to you.

Be honest.

Kids can sense when you're aren't being completely honest with them. While it may be difficult, always choose honesty when talking to your kids — those instances are full of teachable moments they'll carry with them well beyond the years they live inside your home.
When Josh Lovelace was searching for music he and his kids could enjoy together, he couldn't find much. Where were the songs inspired by the folk influences he grew up listening to with his parents and grandparents?
Josh, keyboardist for Grammy-nominated rock band, NEEDTOBREATHE, has released his debut album, Young Folk. The album features 15 original songs Josh wrote with families in mind — the playlist is a collection of music that makes everyday activities more fun and musical, he shares.
An honest conversation through song
When Josh first started recording the music that now appears on the album, he didn't write them with an album in mind. With two young kids, a four-year-old and a one-year-old, he wanted his kids to be able to hear his voice while he was on tour with the band.
What it turned into, Josh says, is an ongoing conversation between kids and the adults they look up to.
"I wanted it to be honest," he says. "I didn't necessarily want to come in and throw paint on the wall and write songs about anything. All of these songs came from organic spaces and organic times in my parenting."
To find out more about the album, visit https://www.joshlovelacemusic.com/store.
JOSH LOVELACE
Josh Lovelace lives in  Knoxville, Tennessee and is a member of the Grammy Nominated rock band NEEDTOBREATHE. He has been making music his entire life. As a young kid, he would sing songs and put on shows for his family and friends, pretending to be the world's next big superstar. Now, 32 with two kids of his own, he is reliving the spirit of those early years with a collection of children's music the whole family can enjoy.
Carlos is an author, speaker, and content creator living in Nashville, TN with his wife Heather and 3 kids Sohaila, Seanna, and Losiah. He is addicted to social media, his wife's enchiladas, and is determined to have his daughters teach him to land a backflip on the trampoline by the time he is 45.
Did you enjoy this episode? Help us spread the word!
Hopefully, this episode has helped you find a few practical ways to "do family better." If you appreciated it, we would love for you to rate or review the podcast on iTunes. Your rating and review help get the podcast in front of new parents and listeners. You can also click the buttons below to share this episode on your own social media channels. Thank you for listening!

Source: The Parent Cue