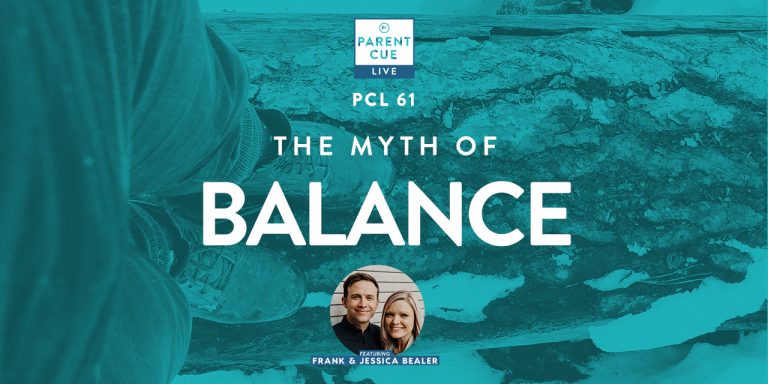 Frank Bealer, executive director of leadership development at Orange, and his wife, Jessica, a published author, talk about how balance is a myth in modern families in today's episode of the Parent Cue Live podcast.
Get on the same page as your spouse.

Each week, preferably at the beginning of the week, take some time to coordinate calendars with your spouse. You'll be surprised how much easier your week becomes when you know what's going to be happening ahead of time.

Set expectations.

Communicate with your family what is expected of the week. Be sure to encourage your kids and your spouse to share openly what the wins of the week would be and what's most important to them.

Plan for the unplanned.

Stresses in your parenting will come, that's a given. Set a contingency plan for the weekly plan in case a kid or family member gets sick, you missed your alarm clock, etc. Remind yourself that everything is not spiraling out of control when things change.
As parents, we know hypothetically we can't do it all, but that doesn't stop us from trying. Most of us grew up in the age backed by the Les Brown quote, "Shoot for the moon. Even if you miss it, you will land among the stars." While this quote is cute and motivational in some circumstances, the sentiment behind it can leave parents feeling discouraged that they're missing the mark every time.
That's why we're so excited about today's podcast topic and guests. Frank and Jessica Bealer, parents of four children, say balance doesn't exist. You heard correctly: Balance is a myth. The Bealers say although balance doesn't exist, your family's rhythm does.
What's your family's rhythm?
Depending on your kids' ages, their after-school activities, and your day-to-day schedule, the time you spend truly connecting with your kids might not happen like the family next door. For instance, Frank and Jessica share how they don't do family dinners together — based on their work and sports schedules, that doesn't really work for them. So they do what works well for their family: Evening and weekend game nights.
"We were putting pressure on ourselves to be the picture-perfect family," Frank says.
You might be wondering, "How do I know what my family's rhythm is?" The most important thing is to discover the expectations of the family — what's most important to your kids? What's most important to you? These are the non-negotiables. Everything else gets skipped (You just breathed a big sigh of relief, didn't you?). Then, you get everything organized, followed by communication with your kids.
"We've got to get to a place where the rhythms in our lives are so healthy that we can then overcome these preset expectations we have on ourselves," Jessica says.
"We've got to get to a place where the rhythms in our lives are so healthy that we can then overcome these preset expectations we have on ourselves." —Jessica Bealer

"The answer was never balance. Balance doesn't actually exist." —Frank Bealer

"I'm at a point where I want to cut our family a little more slack, and I'm starting to assume that other people are willing to cut us more slack than we're willing to receive." —Frank Bealer

"Our kids don't need us to be perfect all the time. They need to see us fail well." —Kristen Ivy
FRANK & JESSICA BEALER
Frank is the Executive Director of Leadership Development at Orange. Earlier this year he released his first book, The Myth of Balance. Jessica has been leading children's ministry for 17 years and authored her latest book Don't Quit. Frank and Jessica have four children.
Carlos is an author, speaker, and content creator living in Nashville, TN with his wife Heather and 3 kids Sohaila, Seanna, and Losiah. He is addicted to social media, his wife's enchiladas, and is determined to have his daughters teach him to land a backflip on the trampoline by the time he is 45.
Did you enjoy this episode? Help us spread the word!
Hopefully, this episode has helped you find a few practical ways to "do family better." If you appreciated it, we would love for you to rate or review the podcast on iTunes. Your rating and review help get the podcast in front of new parents and listeners. You can also click the buttons below to share this episode on your own social media channels. Thank you for listening!

Source: The Parent Cue