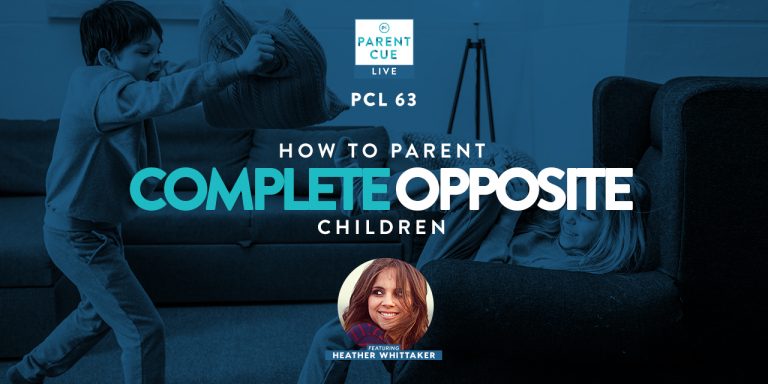 Author, Catalyst Conference speaker, and host of the Parent Cue Live podcast, Carlos Whittaker, is joined by his wife, Heather, to talk about how to parent kids who have different personalities in today's episode.
Encourage your kids to process things aloud.

See it as an honor that your kids trust you enough to let you in on their thought processes. Stay quiet and listen as they talk aloud their thoughts and feelings. Try not to interrupt and offer advice and wisdom when they're done expressing themselves.

Reinforce the idea that humans make mistakes.

Instead of telling your kids there are horrible people in the world, instead, remind them that we're all humans and sometimes humans make bad decisions. In this way, you can start nurturing in them a sense of empathy toward other people.

Teach your kids to see the bigger picture.

There is more than one type of person and more than one way of handling a situation. Encourage your kids to see beyond themselves and diversify their way of thinking about the world and how it works.
There will be moments when you feel like you've reached the peak in your parenting. You've got the schedule down to the minute, you've found the perfect way to discipline your child that actually works, and everything is running like a well-oiled machine.
Then your second child arrives. Then maybe your third. Then everything you thought you knew about kids goes right out the window along with your perfect parenting record.
Once you have more than one kid, you realize there is no parenting formula, and what works for one child in terms of relating to them or discipline may not work for the other. In today's episode, we're joined by Carlos and Heather Whittaker who talk about their personal experiences parenting their children, Sohaila, Seanna, and Losiah. In today's podcast, you'll learn:
Why constantly changing your parenting style is important

How to dismantle the lies your kids believe as it relates to their behaviors

How to talk to your kids about bullies and tough life situations

How to get to the root of people's behaviors
---
"For every issue a kid has, they're acting out based on a lie they believe." —@loswhit
Click To Tweet
---
---
"You have to keep changing the way you parent even now." —@loswhit
Click To Tweet
---
HEATHER WHITTAKER
Carlos is an author, speaker, and content creator living in Nashville, TN with his wife Heather and 3 kids Sohaila, Seanna, and Losiah. He is addicted to social media, his wife's enchiladas, and is determined to have his daughters teach him to land a backflip on the trampoline by the time he is 45.
Did you enjoy this episode? Help us spread the word!
Hopefully, this episode has helped you find a few practical ways to "do family better." If you appreciated it, we would love for you to rate or review the podcast on Apple Podcasts. Your rating and review help get the podcast in front of new parents and listeners. You can also click the buttons below to share this episode on your own social media channels. Thank you for listening!

Source: The Parent Cue