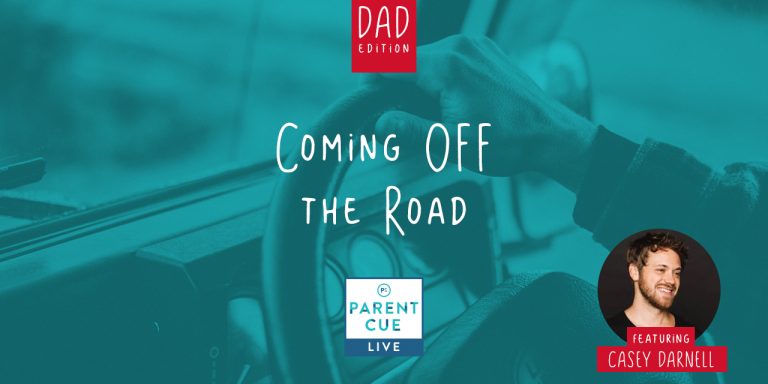 Singer/songwriter for North Point Community Church, Casey Darnell, joins host, Carlos Whittaker, and New York Times best-selling author, Jon Acuff, on the Parent Cue Live podcast to discuss what life is like as a dad coming off the road as a musician and other topics.
Be open to God saying, "Not right now."

In life, there are different seasons, and sometimes during certain seasons, you have to say no to things you would've ordinarily said yes to to make room for what God has in store. Trust God with your life and your plans and listen to His voice and His answers.

Revel in the small moments.

Whether you have a job that keeps you far from home or close to it, take a moment and be thankful for the small, seemingly mundane moments in your family's life. ]It's during these moments families grow closer together and remember how they felt during these times for years to come.
Imagine having a job you love that takes you out on the road for more than 200 days a year. And while you find the travel exhilarating and your job fulfilling, there's always a piece of you left back home: Your family who is growing and doing life together without you.
This was Casey Darnell's life before he recently got off the road as a touring musician and worship leader. A father of four girls, ages 10, five, three, and 10 months, and husband to a wife who runs an interior design business, called Truth & Co., Casey decided to make a difficult decision and stop traveling so much.
What awaited him were day-to-day life tasks with his family we often take for granted, but also a surprisingly emotional response — grief for his old life.
In today's special dad edition of the podcast, Casey, Jon, and Carlos talk candidly about the identity shifts dads often face, how husbands can best support their wives and their dreams, and all while staying in the moment with their kids.
---
"You don't lose. You keep learning." —@caseydarnell
Click To Tweet
---
---
"You've got to have a season where it's no for now."—@caseydarnell
Click To Tweet
---
CASEY DARNELL
Casey and his wife Anisa created Truth & Co to combine their two greatest passions: family and design. As the home sets the stage for years of life and love for your family, they believe it deserves all the love, care, and attention it needs to make it the best backdrop for your family's greatest memories. Casey and Anisa live with their 4 daughters in Atlanta, GA.
Carlos is an author, speaker, and content creator living in Nashville, TN with his wife Heather and 3 kids Sohaila, Seanna, and Losiah. He is addicted to social media, his wife's enchiladas, and is determined to have his daughters teach him to land a backflip on the trampoline by the time he is 45.
Did you enjoy this episode? Help us spread the word!
Hopefully, this episode has helped you find a few practical ways to "do family better." If you appreciated it, we would love for you to rate or review the podcast on Apple Podcasts. Your rating and review help get the podcast in front of new parents and listeners. You can also click the buttons below to share this episode on your own social media channels. Thank you for listening!

Source: The Parent Cue