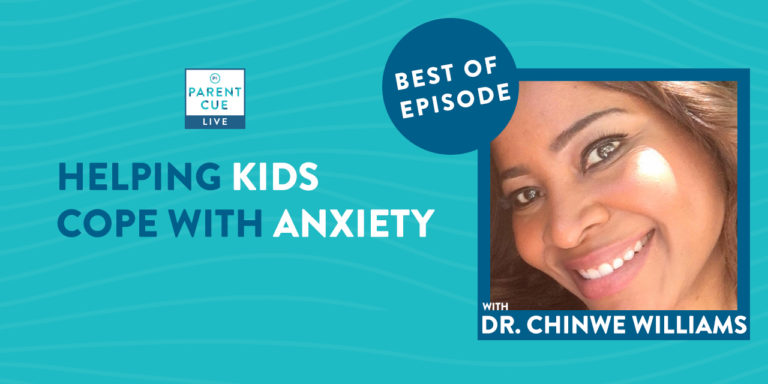 [soundcloud url="https://api.soundcloud.com/tracks/476736438″ params="color=#ff5500&auto_play=false&hide_related=false&show_comments=true&show_user=true&show_reposts=false&show_teaser=true" width="100%" height="166″ iframe="true" /]
Dr. Chinwe Williams, a licensed professional counselor, shares ways to identify signs of anxiety and how to help your kids through their experience with it in today's Best Of Parent Cue Live episode with hosts, Carlos Whittaker and Kristen Ivy.
Adopt the perspective of your child.

Your child's experience is very real to them. When they're feeling anxious and afraid, try to see through their eyes what's happening around them. This way, they'll feel your attempt to understand them.

Acknowledge your kid's anxiety.

We live in a fast-paced world, and often there is a lot of change associated with its pace. When your kid is feeling anxious, acknowledge their feelings and take them seriously. This will help build their coping skills and resilience.

Have a conversation.

If you know a potential scary situation is on the horizon for your kids, prepare in advance to have that conversation with them, asking how they're feeling about what's coming, whether nervous or excited. For less verbal kids, ask them to draw a picture of how they're feeling.
As parents, it's easy for us to dismiss our kids when they show signs of anxiety — their lives are close to perfect. What do they need to worry about?

But in today's episode with Dr. Chinwe Williams, a licensed professional counselor who works with both adults and adolescents, we learn how detrimental it can be to not take our kids' feelings seriously.

What anxiety looks like and what we can do

Anxiety can show itself in our kids in a variety of ways depending on their ages, but some of the signs to look for include a loss in interest in normal activities, a change in eating habits, irritability, stomach pain, and angry outbursts. If ignored, kids can feel alone and shame.

Want to know how to parent well during seasons of inevitable stress and anxiety in your kids? The No. 1 thing you can do is acknowledge your child's experience and put yourself in their place, attempting to see what's happening through their eyes. How would you have felt when you were their age?

There are other tips and tricks on how to communicate with your child during times of anxiety, how to be there for your kids during times of transition, and so much more in today's Best Of Parent Cue Live episode. Tune in!
---
"When stress becomes persistent over time, parents should pay close attention and ask questions."…
Click To Tweet
---
---
"When you dismiss your child's anxiety, the message you're conveying to them is they're all…
Click To Tweet
---
---
"Your logic doesn't speak to emotions. Emotions are what they are." — @kristen_ivy
Click To Tweet
---
DR. CHINWE WILLIAMS
Dr. Chinwe Williams, a licensed professional counselor.
Carlos is an author, speaker, and content creator living in Nashville, TN with his wife Heather and 3 kids Sohaila, Seanna, and Losiah. He is addicted to social media, his wife's enchiladas, and is determined to have his daughters teach him to land a backflip on the trampoline by the time he is 45.
Did you enjoy this episode? Help us spread the word!
Hopefully, this episode has helped you find a few practical ways to "do family better." If you appreciated it, we would love for you to rate or review the podcast on Apple Podcasts. Your rating and review help get the podcast in front of new parents and listeners. You can also click the buttons below to share this episode on your own social media channels. Thank you for listening!

Source: The Parent Cue