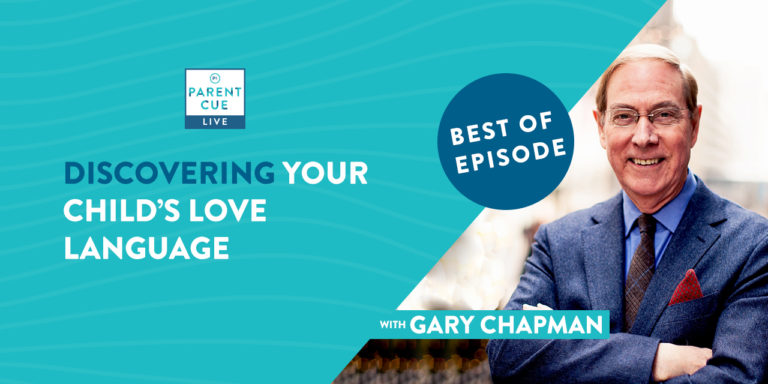 New York Times best selling author, Dr. Gary Chapman, joins host, Carlos Whittaker, to talk about how to discover the five ways your children interpret love based on insights from his popular book, The 5 Love Languages: The Secret to Love that Lasts.
Observe your kids.

Take some time this week to pay close attention, ask questions, and begin to discover your child's love language.  Then do something intentional to communicate love in the language they understand best.

Check in on your kids regularly.

Ask your kids this question, "On a scale of one to 10, how full is your love tank? What can I do to help fill it?"

Wrap discipline in your child's love language.

Your child will receive your discipline better when they understand they are loved. When disciplining your child, make sure to use that opportunity to still show them love in the way they understand.



It's likely most of us have heard about Dr. Gary Chapman's book, The 5 Love Languages: The Secret to Love that Lasts, and some of us would dare to reveal its contents helped save our marriages. So naturally, being a podcast to help parents do life better with our kids, we'd jump at the chance to talk to Dr. Chapman about how we can extend that knowledge loving our kids better.
All of our kids experience and show love differently, and for families with multiple kids, it's likely one kid has a way of understanding love that is different from their sibling. As parents, it's easy — and sometimes safer — to treat all of our kids the same way, but Dr. Chapman says it's imperative parents communicate love in the specific way their child understands it.
"The question is not, 'Do you love your children?' The question is, 'Do your children feel loved?" Dr. Chapman asks.
The five ways children and adults interpret love fall into these five categories (or love languages):
Words of affirmation
Gifts
Acts of service
Quality Time
Physical touch
In today's episode, Dr. Chapman shares how parents can discover what their child's love language is, how to discipline while using your kid's love language, and what parents have to lose if they don't start showing their kids love in the way they understand it.
---
"It's exceedingly important as parents that we learn to keep the love tank full and that will…
Click To Tweet
---
---
"If a child feels loved by their parent, they are far more open to their correction and…
Click To Tweet
---
---
"The question is not, 'Do you love your children?' The question is, 'Do your children feel…
Click To Tweet
---
---
"What your kids request of you most often will give you insight into their love language."…
Click To Tweet
---
DR. GARY CHAPMAN
Author of the #1 NY Times bestselling The 5 Love Languages® series and the director of Marriage and Family Life Consultants, Inc.
Carlos is an author, speaker, and content creator living in Nashville, TN with his wife Heather and 3 kids Sohaila, Seanna, and Losiah. He is addicted to social media, his wife's enchiladas, and is determined to have his daughters teach him to land a backflip on the trampoline by the time he is 45.
Did you enjoy this episode? Help us spread the word!
Hopefully, this episode has helped you find a few practical ways to "do family better." If you appreciated it, we would love for you to rate or review the podcast on Apple Podcasts. Your rating and review help get the podcast in front of new parents and listeners. You can also click the buttons below to share this episode on your own social media channels. Thank you for listening!

Source: The Parent Cue