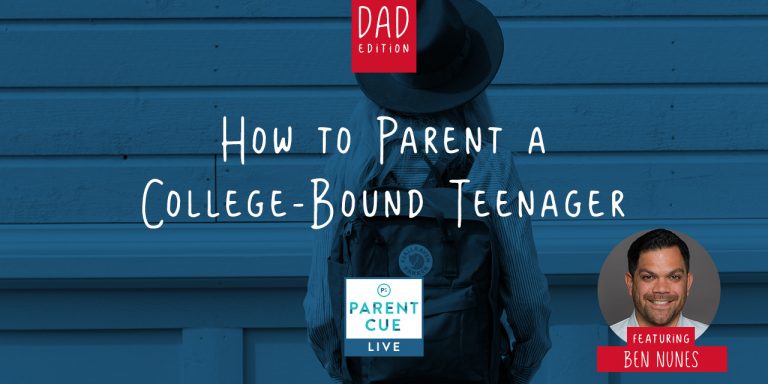 [soundcloud url="https://api.soundcloud.com/tracks/396211107″ params="color=#ff5500&auto_play=false&hide_related=false&show_comments=false&show_user=true&show_reposts=false&show_teaser=true" width="100%" height="166″ iframe="true" /]
In today's episode of the Parent Cue Live podcast, author and speaker, Jon Acuff, host Carlos Whittaker, and Orange's Strategic Initiatives Director Ben Nunes have a candid conversation about being a dad to a teenager bound for college.
Build trust with your teenager.

You can't expect your teenager to let you into their world and willingly receive your wisdom if you don't have a relationship with them. Take time to talk to them while spending intentional time with them in an environment of their choice. They will feel more open to sharing parts of themselves with you.

Initiate conversations.

Don't wait for your teenager to come to you. Start a conversation first, bringing up topics you've been meaning to ask them, no matter how uncomfortable or difficult those topics may be.
Ask most parents which phase in their kid's life they're not looking forward to most and they'll likely be quite quick to admit it's the teenage years. The high emotions, their newfound opportunities to make their own decisions (whether sound or unsound), and their ability to get behind the wheel keep parents who are currently in that phase tottering between fervent prayer and wanting to pull their hair out in frustration.
Just so you know, you're not alone in these feelings. In this episode of the Parent Cue Live podcast, we hear the candid conversation from three dads in this phase, Ben Nunes, Carlos Whittaker, and Jon Acuff as they discuss:
How to handle a situation when your teenager wants to make a life decision based on a boyfriend or girlfriend
How to build trust with your teenager
How to use small moments to connect in a meaningful way
Bonus idea: How to introduce your kids to the idea of adoption
BEN NUNES
Ben is the Strategic Initiatives Director over at
Orange
. Currently residing in Alpharetta, GA with his wife, Kim, and three kids, Kiersten, Madison, and Jackson.  They'll be graduating a senior, as well as growing their family this Spring as they pursue adopting a 7-year-old from Colombia.
Carlos is an author, speaker, and content creator living in Nashville, TN with his wife Heather and 3 kids Sohaila, Seanna, and Losiah. He is addicted to social media, his wife's enchiladas, and is determined to have his daughters teach him to land a backflip on the trampoline by the time he is 45.
Did you enjoy this episode? Help us spread the word!
Hopefully, this episode has helped you find a few practical ways to "do family better." If you appreciated it, we would love for you to rate or review the podcast on iTunes. Your rating and review help get the podcast in front of new parents and listeners. You can also click the buttons below to share this episode on your own social media channels. Thank you for listening!

Source: The Parent Cue