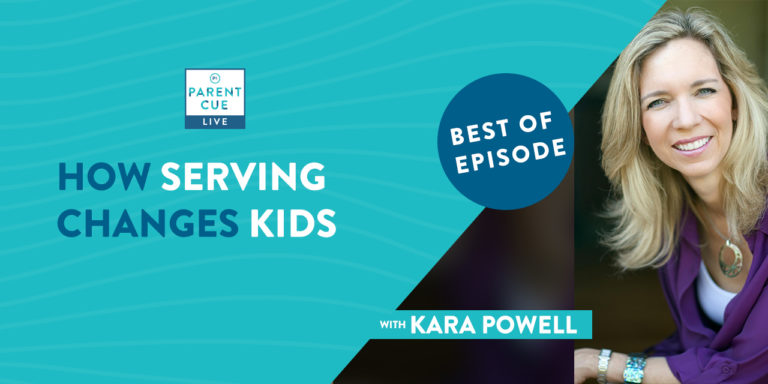 [soundcloud url="https://api.soundcloud.com/tracks/473676810″ params="color=#ff5500&auto_play=false&hide_related=false&show_comments=true&show_user=true&show_reposts=false&show_teaser=true" width="100%" height="166″ iframe="true" /]
Dr. Kara Powell, executive director at Fuller Youth Institute, joins Reggie Joiner and Kristen Ivy to discuss how serving others helps grow kids' character and faith by connecting to a bigger story.
Seek out opportunities to serve.

Sometimes, you'll have to put in some effort to find ways to serve others. Don't let the potential challenge of the additional time it takes to search deter you from something this important.

Serve together.

Take every opportunity to serve together as a family. Your kids need to see you serving others as much as you need to do it. Serving together helps build memories, thus strengthening your family's bond and your kid's sense of belonging.

Check with your local church for ways to serve.

Not sure where to start? Head to your local church to see what opportunities they have available — they usually have multiple options.
What's the No. 1 priority on most parents' list?

Making sure our kids grow up to be upstanding adults with as many fruits of the spirit as they can get.

While most parents focus on making sure their kids learn concepts such as love and respect, and how to master certain skills and life lessons through participating in a sport or learning to play an instrument, many overlook one principle that has the potential to make a lasting impact on their kids' — the act of serving others.

Service is the key to growth in character for a kid and is the catalyst for how they'll end up as an adult. Service requires empathy and agency — when we serve others, we are able to engage in someone else's story and as a result of what we see, we can be an agent for change in the world.

"Service causes us to look a little bit less in the mirror, and a little bit more through a window of the world around us," Kara Powell shares.

To learn how you can fit service opportunities into the busy rhythm of your family life, how to teach service to younger kids, and what your first steps should be, tune in to one of Parent Cue Live's most popular episodes!
---
"Service is critical to the growth of faith and growth of character in a kid." —@reggiejoiner
Click To Tweet
---
[Tweet ""Service causes us to look a little bit less in the mirror, and a little bit more through a window of the world around us." —@KPowellFYI"][Tweet ""
---
"There's something about service that unlocks even more of who they are and even more of their…
Click To Tweet
---
KARA POWELL
Kara Powell, PhD, co-author of the Right Click: Parenting Your Teenager In A Digital Media World and executive director of Fuller Youth Institute.
Carlos is an author, speaker, and content creator living in Nashville, TN with his wife Heather and 3 kids Sohaila, Seanna, and Losiah. He is addicted to social media, his wife's enchiladas, and is determined to have his daughters teach him to land a backflip on the trampoline by the time he is 45.
Did you enjoy this episode? Help us spread the word!
Hopefully, this episode has helped you find a few practical ways to "do family better." If you appreciated it, we would love for you to rate or review the podcast on Apple Podcasts. Your rating and review help get the podcast in front of new parents and listeners. You can also click the buttons below to share this episode on your own social media channels. Thank you for listening!

Source: The Parent Cue