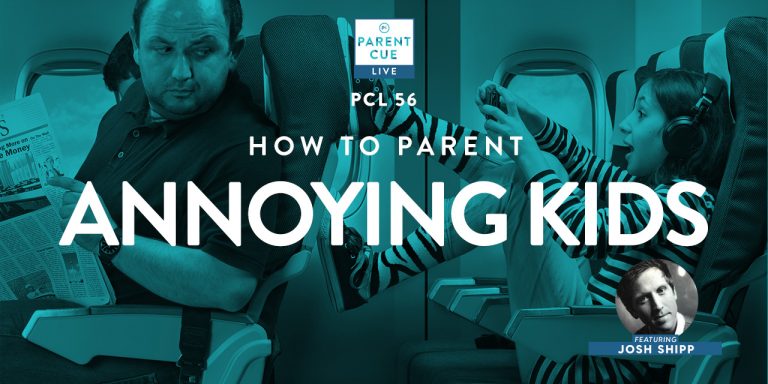 Josh Shipp, award-winning teen expert featured on MTV, CNN, and in The New York TImes, shares honest, helpful tips on how to parent effectively through some of your kids' most annoying traits.
Make an honest effort to see the annoying trait positively. It may be hard in the moment, but remember the trait that annoys you most now will likely be what will make them a successful teen and adult. Pause and remind yourself this trait serves a purpose.
Nurture the annoying traits. Create boundaries and opportunities for your kids to express these traits in a constructive way.
Empathize with parents who are going through the same thing. The best thing you can say to a parent who is annoyed with their child is, "I understand." Provide some perspective on how their child's behavior will serve them well in the future.
Sometimes, kids are annoying.
Admitting that fact doesn't make you a bad parent, but an honest one. Although you love your kids immensely, it's difficult not to get overly frustrated and react when they're pushing buttons you didn't even know you had. On good days, you're able to keep your eyerolls and sharp responses inside your head, but on bad days . . . well, we all have them.
Josh Shipp, a father to an eight-year-old son and six-year-old daughter, is all too familiar with annoying kid traits. His son is unbelievably persistent and his daughter is bossy and stubborn. He finds himself regularly annoyed with their behaviors.
But what if instead of getting angered by our kids' behaviors, we look at them as traits that will help them grow into successful adults? In today's episode, parents will learn:
Why it's easy to empathize with a kid's behavior if it's similar to their own
How to see their kids' annoying trait from a positive perspective
How to empathize with other parents
How to preserve annoying traits
Annoying Traits  –  Strength in Disguise

Bossy  –  Leadership

Defiant  –  Determined
Demanding  –  Assertive
Fearful  –  Thoughtful
Impulsive  –  Bold
Liar  –  Creative Writer
Loud  –  Confident
Manipulative  –  Negotiator
Mean  –  Powerful
Quiet  –  Learner
Stubborn  –  Persistent
Sensitive  –  Caring
---
"What if a kid's most annoying trait is their biggest talent in disguise?" — @JoshShipp
Click To Tweet
---
---
What does it look like to both draw the line with a kid but point to another line available?
Click To Tweet
---
---
"As adults, it's easy for us to lose that sense of empathy with a child." — @Kristen_Ivy
Click To Tweet
---
JOSH SHIPP
Josh has established an international reputation as an inspiring youth motivational speaker with a simple and entertaining, yet challenging message. Abandoned and abused as a child, Josh was able to triumph over the tragedy, and he continues to encourage everyone to overcome struggles and live life to the fullest. And he does so through the power of laughter. Josh is a spokesperson for National Foster Care Month, a marathon runner and a guitar hero. Visit Josh online at www.JoshShipp.com
Carlos is an author, speaker, and content creator living in Nashville, TN with his wife Heather and 3 kids Sohaila, Seanna, and Losiah. He is addicted to social media, his wife's enchiladas, and is determined to have his daughters teach him to land a backflip on the trampoline by the time he is 45.
Did you enjoy this episode? Help us spread the word!
Hopefully, this episode has helped you find a few practical ways to "do family better." If you appreciated it, we would love for you to rate or review the podcast on iTunes. Your rating and review help get the podcast in front of new parents and listeners. You can also click the buttons below to share this episode on your own social media channels. Thank you for listening!

Source: The Parent Cue