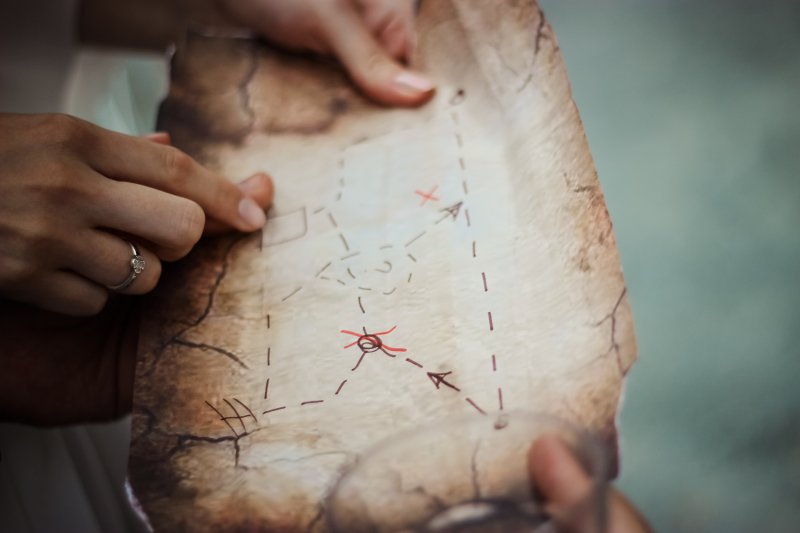 Splinks for the week of November 17-23, 2019
Treasure Hunt
Create a Treasure Hunt that leads to a special treat or an announcement about a trip or family outing. Provide clues that must be followed in the correct order for the treasure to be found.
Suggested rhyming clues for readers:
"When Daddy gets tired, he goes to this place and your clue is found where he puts his face." (Daddy's pillow)
"When juice gets spilled someone quickly wipes the floor, but sometimes the spill is too big and you need to get something more." (A mop)
" We use it for chicken, burgers, or hot dogs, but the heat that is used doesn't come from logs." (Outdoor grill)
"Sometimes it's on potatoes. Sometimes it's on toast. I think I like it melted over popcorn the most." (Butter)
Suggested clues for non-readers:
It's red, cold, and French fries like it a lot. (Ketchup)
It opens when we leave, and again when we come home. (Front Door)
It's something cold we eat from a bowl or a cone. (Ice Cream)
In order to find the treasure you had to follow the clues in the right order. That's a great reminder for us about the importance of following God and obeying the people He puts in charge of us. We are a treasure to God and He takes good care of us.
---
Family Faith Journal
Purchase a special notebook or journal to record faith moments for your family. Suggestions for entries or sections of the journal:
Prayer requests and answers
Reasons to be thankful
Record of God's provision
Milestone faith decisions
Scripture verses memorized
Opportunities to witness of God's love to others
The act of recording these things helps kids understand the value of faith moments in life. As they grow, encourage them to contribute to the journal on their own. Be intentional to add to the journal. "What a great answer to prayer. Remind me to add that to our Faith Journal when we get home!"
---
Homework
Read Ephesians 6:1-4.
These verses provide an assignment that is sort of like daily homework for families. God instructs parents to lovingly help their kids learn how to live according to God's Word, and He gives kids the instruction to obey their parents and honor them in Him.
When kids and parents work together to love God with all their heart, soul, mind, and strength, they can be a mighty team for the Lord. God designed the family and puts a lot of value on the family unit. We want to be a family that honors God and puts Him first. We won't be perfect but we can try our best to follow Him and be ready to ask forgiveness for the times we fall short.
Let's pray together now and thank God for our family and ask for His help as we all do our part on our family team.
Lead your family in prayer and look for ways to encourage that team spirit as you work together to grow closer to the Lord.
The post Splink | Nurturing Family Faith appeared first on D6 Family.
Source: Splink