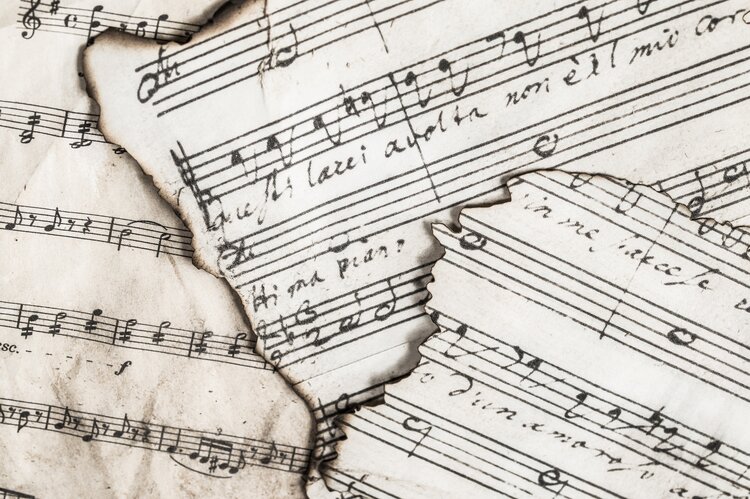 This series is named for a Latin term, post tenebras lux, which translates to "after darkness, light." It is an evergreen hope, that light that comes after darkness. It is seen in nature: the moon reflects the hidden sun. We may say the sun's reflection in the moon is the hope we feel in the darkness; the visible sun itself is the fulfillment of that hope. What was once foreshadowed arrives, and continues to do so day after day. Sometimes we see our hope clearly in a brightly lit moon and joyfully anticipate the arrival of the sun. Other times, we have to remind our despairing selves that the sun is still there despite clouds or storms that hide it, or distractions like wind and lightning. The sun is still there.
And so, we sing.
In the first post of this series, I wrote, "This new series is going to walk through songs of worship that the hurting heart needs to sing, the aching soul needs to feel, and the cracked, dried lips need to utter." We must consistently remind ourselves of this theme of light after darkness, lest we forget and falter. We do this through a variety of means: in corporate worship, on our own wherever we are, in our home, driving to appointments, maybe even in a hospital bed.
Why Should I Sing?
Scripture exhorts us not to neglect gathering together for worship, and while this post doesn't focus on the reasons we may not, community worship is meant to be an encouragement when it does happen. When we gather corporately, we can participate in worship, specifically through song, even if we ourselves cannot sing because we are weary. Our brothers and sisters in Christ around us sing not only for themselves, but also on our behalf, strengthening us by the courageous voice lifted next to us, or the harmonizing behind us. Music often expresses what our lips and vocal cords don't have the strength or faith to utter or hum. Eventually, we may be unable to keep from singing a song that resonates in our soul.
The Bible has over four hundred references to singing, and fifty direct commands to sing. The longest book of the Bible, Psalms, is dedicated to song. The New Testament commands us twice to sing psalms, hymns, and spiritual songs to each other when we gather together. It would seem that singing is pretty important to God. Even God Himself sings (Zephaniah 3:17). We can sing the mercies and grace of God when our soul needs to be renewed and reminded of His goodness. We sing to God to worship Him for who He is as Creator and Savior, and we sing to ourselves to strengthen the feeble hands that need desperately to lift and give to God that which we cannot hold ourselves. We sing to remind ourselves that the sun exists, and we will feel its rays of warmth yet again if we cannot feel it now.
Dear Refuge of My Weary Soul
The next song in our series that has been a stronghold for my heart in all kinds of desperation, lament, and even thanksgiving. "Dear Refuge of My Weary Soul" is a hymn written by Anne Steele in 1760. Anne Steele was the "the pioneer female hymn-writer of the eighteenth century," often writing under the pseudonym Theodosia. She wrote so many hymns that she became the "all-time champion Baptist hymn-writer of either sex," penning 380 hymn-texts.
Anne's entire life was native to suffering. Her mother died when she was 3, and as Kevin Twit writes on his Indelible Grace blog, "by 14 it seems she was bothered by chronic recurring malaria which took a progressive toll on her health." She was thrown from a horse at age 19 and suffered serious injury. Her fiance died by drowning, and she remained single the rest of her life despite multiple marriage proposals. Upon her fiance's death, she penned the beautifully-written hymn, "When I Survey Life's Varied Scene." She lived with her father and stepmother and was completely bedridden for the last nine years of her life. After she lost her father in death, she never fully recovered from her grief.
The ailments and griefs in her life led her to write many hymns that expressed her doubts and fears, even questioning assurance of her salvation. Dear Refuge of My Weary Soul and other of Anne Steele's laments are hymns we can sing as we too struggle. Lament assumes a trust in and need of the One to whom we are lamenting, knowing He alone can sustain us through struggle. Read the words and note the progression the words and emotions take:
Source: Special Needs Parenting- Key Ministry