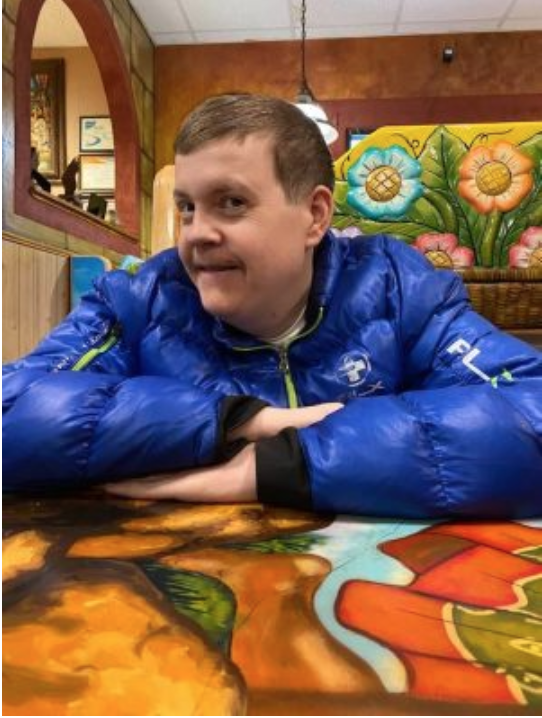 Sunday morning. Five us gather around the kitchen table—me, Wally, our son Joel, and two friends, Ruthie and Cheryl. Lots of people come and go from Cloudland, our retreat center in southwest Ohio. Most of them stay in the Barn Studio, but close friends, like Ruthie and Cheryl, stay with us in the house. Joel's oaky with that, for the most part. He doesn't mind sharing Mom and Dad with friends, and he definitely counts Cheryl and Ruthie among his dear friends. We have shared birthdays, prayers,  concerts, and long drives in the country together.
Today is one of those days that Joel can't sit still, so after a couple of bites of bacon and gluten-free toast, he disappears into the living room. Strains of John Denver, singing "Thank God I'm A Country Boy," drift into the kitchen. Music is Joel's first language, and he plays his favorites—John Denver, James Taylor, and Amy Grant—over and over again. His iPad, as usual, is turned up full blast. He refuses to wear his headphones, so whatever Joel listens to, the rest of us listen to. Annoying at times, but thankfully he inherited at least some of his musical taste from us. We recently introduced him to one of our new favorites, Carrie Newcomer  She's not yet found her way into his heart, or so I thought.
The mouth-watering smell of bacon permeates the kitchen as the rest of us, taking our time at the table, talk about the Healing Rooms where we served last night: one woman healed of intense shoulder pain, another received emotional healing in a difficult family situation, my chronic fatigue lightened. Knives and forks clink against plates, John Denver shouts "Yahoo!" from the living room, and laughter mixes with sunlight to make the morning golden.
Source: Special Needs Parenting- Key Ministry